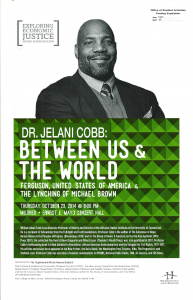 Dr. Jelani Cobb delivers a stunning lecture, "Between Us and the World: Ferguson, USA and the Lynching of Michael Brown," to the faculty, staff and students of The College of New Jersey on the events in Ferguson, MO and a general discussion of race in America.
Dr. Cobb is an Associate Professor of History and Director of the Africana Studies Institute. He specializes in post-Civil War African American history, 20th century American politics and the history of the Cold War. He is a recipient of fellowships from the Fulbright and Ford Foundations. His articles and essays have appeared in the New Yorker, the Daily Beast, the Washington Post, Essence, Vibe, The Progressive, and TheRoot.com. He has contributed to a number of anthologies including In Defense of Mumia, Testimony, Mending the World and Beats, Rhymes and Life. He has also been a featured commentator on MSNBC, National Public Radio, CNN, Al-Jazeera, CBS News and a number of other national broadcast outlets.
Missed the event? View the full lecture here.
This lecture was co-sponsored by:
Department of African American Studies
Department of English
Department of Women and Gender Studies
School of Humanities and Social Sciences
Black Student Union
Office of Institutional Diversity
The Alan Dawley Center for the Study of Social Justice
The Cultural & Intellectual Community Program Council (CICPC)
The New Jersey Council for the Humanities (NJCH)